HACO = A box in Japanese.
H u m a n
A r t
C o r e
O d y s s e y
Seeking for crews to sail out TOGETHER to the unknown ; new dimension, time, place where we have never been.
8/3 -31 / 2019
Opening Reception August 3rd 5:00-8:00
Line to me…
I paint things that usually exist on a daily basis and create a variety of works that diversify everyday life.
A year has almost passed since I moved to New York.
Every now and then, I connected with "not so healthy looking vegetables," the typical NYC grocery store ones. They gave me energy in a strange way, quietly, but surely.
I grew a habit of leaving the house way earlier than I needed to in order to deal with the unreliable NYC subway.
This habit led me to unexpected warm communications with native New Yorkers.
Even though I'm not capable of having conversations about complicated topics, politics, and explaining my emotions in English yet, I made some friends who patiently listened and genuinely conversated with me, those whom I appreciate every day.
I think that having them on my side also gave me energy to get by.
Those days in NY have given me a reason to reflect upon my past, my art, my drawings.
My works tend to be filled with lines almost overwhelmingly.
Lines to me have the resemblance of children's first attempt at drawing, lines which appear in the traditional Japanese paintings, or the scrabbles of random notes.
There is probably structure in lines.
Some artists might strive to draw in a two dimensional way.
I thought of my case carefully.
And I realized that it is more like A three dimensional notion, like an action similar to digging up objects from the other dimension in order to deliver it to the other side. Having parents who were sculptors possibly influenced me to approach drawing in this way, who knows.
I've spent almost half of my life dedicated to art, facing canvases, paints, my lines, non stop.
After all, I recognized my method of expression, drawing lines had never really changed.
I believe it is a result of my experiences with my art, a consistent search for the unexplainable beauty, what art could offer.
This is my first solo exhibit in NY, with my lines, new works.
Film
screening
8/24/19 6:00 - 8:00

Last Interview Film of Jonas Mekas
version 3
2019 / 20 minutes
The very last film Jonas Mekas ever appeared.
A last gift from Jonas to us.
INTERVIEW: JONAS MEKAS
DIRECTION & FILM: Chihiro ITO
DATA: 14 October 2018
PLACE: Jonas Mekas's Studio
Save the Last Dance for Me version 2 (2019) about 4mins
DIRECTION & FILM, PAINTING: Chihiro ITO

These films are new edit version for this screening.
and more…

2019 ©Chihiro ITO
FILM SCREENING
Life
-the untold story of Fukushima Evacuation Zone-
May 31
7:00-9:00
A Documentary Film about
A family
in Fukushima Japan
"Life" is a film about A FAMILY who refused to evacuate from the mandatary evacuation zone when earthquake & tsunami hit Kaihama region in FUKUSHIMA in search of their 2 missing children. Chiaki spent 6 years on this production and was screened at NY Film festival in March, HACO hosted a director's talk to support. At this time, we are honored to have the film screening to take a part of delivering the untold & unwanted truth of the disaster at our space
Proceeds of ticket sales will be donated to the characters of the film

-to Live : untold story -
Life
DIRECTED BY CHIAKI KASAI
"It's ok that things get weathered and forgotten. And I don't really wish upon Fukushima to be not forgotten. But what really happened and what really is going on ever since the earthquake has never been told.
That, I can not bear, and hope the truth to be delivered.."
Takayuki Ueno / main character of "Life"
Resident in Minami-Soma, Fukushima
current
Zen & Life
from Fukushima Japan
6/1-6/30
Opening Reception
6/1 7:00-9:00
HACO presents a collection of scroll paintings elaborating Sutra and Zen philosophy from the Soto School of Buddhism from the Antouin temple, active since 1595 in Fukushima. These scroll paintings will be on view for the first time in America. In addition, the gallery will also showcase three forms of traditional crafts from Fukushima prefecture; pottery, silk and lacquer in order to support them preserve their centuries-long traditional craftsmanship by exposing their exquisite crafts here in NY. Having a special guests, Syunken Yokoyama (17th chief Monk from Antouin temple,) we would also hope to transform the tremendous disaster of the Great Japan Earthquake, the resulting tsunami and nuclear disaster of 2011 into an opportunity to rediscover the concept of healthy lifestyle through the lens of Soto school Buddhism's concept of 'Zen'
Why now?
There's so many unspoken reality of Tsunami victims and residents in Fukushima, 8 years have not done any justice to the struggles they continuously experienced. we believe delivering more realistic insight, unwanted truth is inevitable process for the better future.
In addition, the gallery will also showcase three forms of traditional crafts;
pottery, silk and lacquer from Fukushima prefecture.
The Obori Somayaki pottery- a form of traditional ceramic originated and preserved by twenty kiln Lords through generations were located at Namie town, Futaba, also known as mandatory evacuation zone. Currently, the half numbers of kiln lords restarted and striving their tradition from at where they had to migrate due to the evacuation, and HACO features two kiln Lords, Kyogetu and Matsunaga kiln. The history of Kawamata silk has been more than four centuries, their quality of silk is renowned as "fairy-feather." Attributed Silk company from Kawamata, Saiei has recently been in production with high-end brands in France. The Lacquer from Aizuwakamatsu city has been one of the most proud traditional crafts in Japan. The Urushi ware (Lacquer) product, "MEGURU" is the handcrafted wooden bowl made with extreme dedication to it's touch & feel by artisans from company, Urushi Rock's. With absolute craftsmanship and the tremendous amount of time in their production, Urushi Rock's aim to not only preserve the tradition but to create products that will become of your own family treasure through generations.
The products of Obori Somayaki + Kawamata Silk + Lacquer will be for sale at HACO
6/1/19 Saturday

12:00-12:45
Guest Talk by the Chief Monk of Antouin, Syunken Yokoyama
"What's happening in Fukushima Now"
Along with short film screening/ Recitation of letters from both Tsunami & great earthquake victims
-Donation are welcome-

1:30-3:30 Workshop : part 1
Hosted by Syunken Yokoyama
Meditation and Traditional Tea ceremony followed by discussion regards to "zen & it's phyrosophy"
-$20/person-
4:00-6:30Workshop : part 2
Hosted by Syunken Yokoyama & Masaya Kuratate
Incense making and Meditation followed by a Zen talk
-$30/person (material included)-
6/2/19 Sunday

11:00-11:45
Guest Talk by the Chief Monk of Antouin, Syunken Yokoyama
"What's happening in Fukushima Now"
Along with a short film screening/ Recitation of letters from tsunami and earthquake victims.
-Donations are welcome-

1:00-3:00 Workshop : part 1
Hosted by Syunken Yokoyama
Meditation and Traditional Tea ceremony followed by discussion regards to "zen & it's phyrosophy"
-$20/person-

4:00-6:00 Workshop : part 2
Hosted by Syunken Yokoyama & Masaya Kuratate
Incense making and Meditation followed by a Zen talk
-$30/person (material included)-
EXTENDED TILL 4/7/2019
Mario Mandala
F R O M J A P A N
Only by having questions, there are discoveries.
This world is always being updated by those new discoveries which did not exist yesterday. Mario thinks his world is rather small and what he could do is little… He doesn't believe he could contribute to the world by discovering something new and useful. But he wonders what if he could expose his questions or give some questioning cues to others. That would be worth trying to strive through his art.
Mario says…
"Those people who happen to come across with my art might be able to capture some kind of codes or something from them and develop questions in their minds by looking at the images. Some might possibly come up with useful discoveries or ideas in their own minds as consequences - then that might mean, I indirectly, take a bit part of new useful things just by exposing my art, such absurd images onto those flat surfaces. I don't know if anything makes any sense at all, but just tracing such images in my useless mind which always brings me questions what's what and what's not…
Mario Tauchi is a Japanese artist living & working in Tokyo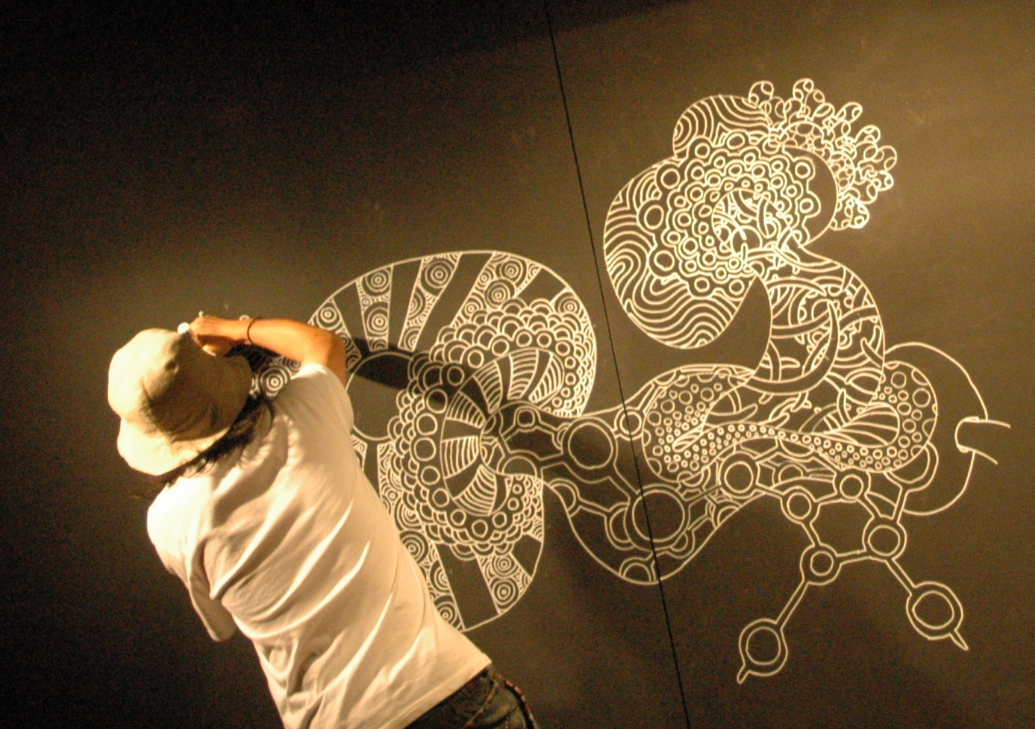 Live painting
+
Music Performance
3/2/19 19:00~
by Mario mandala & Justin Simon
Join Us on this exciting opening night
Mario will attempt to take you to his mandala world by painting live along with music performance by Justin Simon..!
Let's explore the mandala world!
Justin Simon has released music as invisible conga people labels such as DFA, IDIB, O genesis, Permanent Vacation, and more. He also releases music by Japanese musicians including Phew, Chie Mukai, and Shintaro Sakamoto on his mesh-key imprint, and has composed scores for the choreographers Donna Uchizono, Mei-Yin Ng, and Gloria Maximo.
A Literary Evening
with Evergreen
www.evergreenreview.com
March 8 2019
6:30-8:30


HACO is incredibly excited to host an evening filled with remarkable authors & their stories. Guided by Dale Peck, editor-in-chief of the Evergreen, three phenomenal authors, Lisa Dierbeck, Joyce Johnson, and Minerva Martínez will be there sharing their works with us. Please come join us for this amazing occasion, and enjoy this story-full evening with some glasses of wine..
No RSVP is required, but limited seats,
*Special thanks to Mario Tauchi & John Oakes for making this event possible


About Evergreen
Founded in 1957, the Evergreen Review quickly came to be known as the "heart of the beats" and was famous for its commitment to the avant-garde. It was revived in 2017 as an online publication


For our first year anniversary…
H A C O Gallery would like to present the group show, "Light & Shadow."
Triggered by the beliefs and hopes of the world-wide performing artist, Sizuru Ohtaka, each artist works towards their interpretation of what "light & Shadow " means.

Please join us to this paradoxical showcase of a variety of styles and visions.
The light shines in the dark. Shadow can only appear in the presence of light.
Such a destined relationship within the dichotomy, yet correspondent, codependent.
What if the world is keeping its balance with light and shadow?
Front & Back
Day & Night
Life & Death…
Both sides coexist simultaneously but never meet at the same place.
Each end always has a different view, sometimes defining exactly where you are standing...

Acknowledging the existence of both sides helps us understand our limited capacity of being one-sided.
If you could let go of the fear towards the unknown, life might end up taking you somewhere unexpected. A place called the other side, where you have never imagined to be.

I believe we all have light & shadow inside of us.
Why don't we let that thin line between light & shadow within ourselves break?
You might be surprised by what you find on the far end of your own shadow.
Witness the hope that light is willing to bring, and find out what the shadow wishes you to see.
sizzle Ohtaka
Invited Artists:
Sizzle ohtaka with Takayuki Fujimoto
Neon o'clock works: Sayaka Maruyama & tomihiro Kono
Coco 144
al diaz
pepe coronado
Palén Obesa
Kaname higa
yoko suetsugu

Coronado printstudio + HACO presents
Hand Print Making Workshop
September 30th
2:00-5:00pm
Within the course of 3 hours workshop, participants could create prints based on their choices from screenprint / monoprint / relief / form / and, or rubber blocks with black water and soy base inks… We got all materials for you, just bring your ideas..!
absolutely kids friendly
Coronado Printstudio www.coronadoprintstudio.com
Rooted in the philosophy of creating art in the community, the Coronado Printstudio is not only a fine art printmaking studio, but a space where artists can shed boundaries and barriers to engage in open dialogue around history, identity, and important issues of our time.
Pepe Coronado, the master printer at the studio, believes that "printmaking, by nature, is a collaborative medium. It's a community-oriented art form." Based on this principle, Pepe founded the studio in 2006, and in 2015 relocated to the vibrant neighborhood of East Harlem. The Studio believes in collaboration because it believes that voices and stories are most powerful when seen and heard collectively. 
the way i see it 
H A C O presents
collections from Coronado printstudio
This exhibition investigates beyond the disassociation and limitations of an individual with their gender, race, ethnicity or any other concept attributed to them because of their culture, religion or title, while embracing the idea of detachment to objectivity or a right answer with each piece. 
The audience has the opportunity to experience the artists' voices and the scenery they are looking at as collaborators. Each artist presents their work in ways that might be crude and literal, ambiguous or abstract, poetic, tangible or intangible; and yet the color of their voices does not affect the endless number of impressions each person can experience by looking at these works. 
Simulating the idea of the collaborative process of printmaking and the showcase of various artists in a group show, The Way I See It encourages the viewer to acknowledge their individuality as it is, and embrace it with each decision, instead of striving to belong to anyone but themselves.  
The theme of this show revolves on the idea of people's ability to coexist with each other independently, analyzing their thoughts in order to discover their purpose. They travel together and make different stops to follow their own paths while still riding collectively in the same one-way train. 
Magnetismo Espiritual
Spiritual Magnetism
Shie Moreno
In old Tibet it was considered that childhood ended at 7 and the first steps and training of adult life would then begin.
Shie Moreno's early years were spent in a Havana society in the throes of a Stalinist period amid the decaying splendor of a once grand city. At 8 he endured a crowded, nightmare passage forever known as the Mariel boatlift. He arrived in a hostile city to a foreign culture. The family quickly moved to Los Angeles and then, years later, returned to Miami.
The harsh bright light of the tropics, the intensity of color, the forced blindness of night in a crowded vessel, the elements, the sense of drifting and of place, all served to forge the sensibility of an artist.
Marrying the strength of titles and the formalism of calligraphy Shie Moreno brings dust to life with the breath of a divine creator in the form of pigment to canvas or other media on the surface to hand.
The artist has summoned forces and unleashed them as animating spirits, elementally free and giving freely. Shie Moreno is a living tendril connecting ancient spirituality, the fecund tropics and contemporary American art.
Any artist, particularly one as attuned as Shie, is also an instrument subject to the confluence of diverse energies; cultural, geographic, temporal and those not subjugated to the constraints of time.
The artist is not hindered by material constraints; any surface and material will do for creating expression. Paint, collage, tar, marker, wax, aerosol, keepsakes and even fire will be used to create a surface effect on canvas, wood, paper or glass. An earnest examination of color, letter forms and composition inform the work. This leads to Shie Moreno as an inventor of forms, ever expanding the techniques and range of his expression.
ARTIST TALK
oral meanderings, memories and anecdotes
6/3/2018 Sun. 4:00-6:00
The artist Al Diaz, the other half of the legendary graffiti Duo, SAMO © with Jean Michel Basquiat. The graffiti that took over Lower Manhattan from 1977 to 1979 as SAMO © was initially known for its wit, sarcastic humor, and poetry, eventually recognized world wide. Al Diaz, an influential first generation NYC graffiti artist from NYC has never stopped creating art, sending the massages to the world and his career span is now 5 decades...! At this time, he is going to be here at HACO to talk about such incredible journey through/with his career as an artist, also as a person, and his friendship with Basquiat and their good SAMe Old days...
photo by Natalya Maystrenko
WAITING
4
A CLUE
-paper, paint, and tin panels-
5/12/2018 - 6/10/2018
opening reception 5/12/18 4:00-6:00
An influential, first generation NYC graffiti artist, who later became a text oriented street artist, Al Diaz's career spans 5 decades. He currently works with the WET PAINT & Service Change Alert signs used throughout the New York City subway system -- cutting out individual letters from multiple signs to create clever, surreal and sometimes poignant anagrams. The reworked signage is then posted back onto subway walls. His WET PAINT work is featured in Nicholas Ganz's book " Street Messages" and Yoav Litvin's "2-Create". Al appears in numerous publications on the subjects of graffiti culture and New York in the '70's & '80's. His most recent exhibitions include 2 solo shows, a 2 man show (along with Carlos Pinto), 7 group shows throughout the continental USA and a museum show in Caracas, Venezuela. This past year (2017) Al was featured in Sara Driver's film BOOM FOR REAL . A film that explores Basquiat's teenage years, as well as a BBC documentary (Rage to Riches ) and the BOOM FOR REAL exhibition at London's BARBICAN MUSEUM. A featured speaker on a variety of panel discussions, including at The New School, The Museum of the City of New York, NOLA Arts Festival in New Orleans and The New York Public Library as part of a discussion panel on the Basquiat Notebooks. Al resurrected the SAMO© graffiti in November of 2016 and has been actively creating new messages and quotes since then. Leaving them in public places throughout the United States and the U.K. Al Diaz presently lives and works in Brooklyn.
VEGESUSHI WORKSHOP by SOUGEN ICHIZUMI
SUSHI: Vegetarian, Vegan, Health concious Friendly...
Delightful, tasteful, artistic NEW STYLE of sushi is coming to HACO from JAPAN
SOUGEN ICHIZUMI
from Hoxai Kitchen
Hoxai Kitchen ; Creative Collective SoUgen(designer) & his crew
VEGESUSHI, created for the health-conscious, for those who can't, don't eat fish or simply enjoy vegetables. It is a new style of sushi conceptualized by Hoxai Kitchen, artist Sougen Ichizumi. VEGESUSHI is based on KYOTO's vegetarian culture and traditional rectangular-shaped pressed sushi. Colorful & seasonal vegetables, delicately cooked, and decorated. Those sushi blocks are served like cakes and awaits to be shared.
The first recipe book, "VEGESUSHI" is a bestseller in Japan, Sougen and his culinary crew such as Chef Kei, and vegetable sommelier Juno are celebrated, their workshop have been a huge success in Paris, Berlin, Bangkok, Tokyo.
This is the very first time the VEGESUSHI workshop is coming to NY.
Not only the experience for exhibition by Legendary Graffiti Artist, Al Diaz, "WAITING 4 A CLUE," but the delightful sushi making with Sougen Ichizumi awaits you at HACO
GET your inspiration stimulated, and ENJOY the taste of VEGESUSHI!
Let's make Vegesushi with Sougen!
5/13/18 Sunday @ HACO
1:00-3:00pm $70.00 / person
4:00-6:00pm $80.00 / person (complementary cocktails will be served)
March 3rd, 4:00-6:00pm
Legendary Graffiti Artist who strives to make art more than 50 years, COCO144 will share his experiences about the CORE of cultural phenomenon, THE BIRTH of GRAFFITI ART scene in NYC in late 1960's. He will also share stories with us about amazing collaborative work with Joffrey Ballet Dance Company in 1973. The never before shown video footage is only on view at HACO at the moment...
February 10 to March 10, 2018
COCO 144
wRITE
Sat, Feb 10, 2018 6:00 PM
Sat, Mar 10, 2018 7:00 PM
COCO 144 / Roberto Gualtieri
Roberto Gualtieri is a native New Yorker and a pioneer of the subway aerosol movement. In Late 1969 he began writing his name on the streets, then the subways. In 1972 he innovated the use of the stencil, allowing him to paint his unique style citywide.
COCO transitioned from subway writing onto canvas and cofounded the collective United Graffiti Artists (UGA). In 1973, he introduced subway aerosol writing in groundbreaking show at the Razor Gallery in Soho. This pivotal event shifted the public's perception of graffiti and ushered in a new art form that would become a global cultural phenomenon.
Coco's work has been exhibited at the Museum of Science and Industry in Chicago, Artists Space in New York City, The Ninth Biennial in Havana, Cuba, The Cartier Foundation in Paris, and the Museum of Contemporary Art in Denver, Colorado.
COCO 144 currently lives and paints in New York City
January 20th & 27th 2018
PUPPET MAKING WORKSHOP
WITH Kurt Zager
Saturday, January 20th & 27th 2018
2:00 PM 6:00 PM
Puppet Making workshop
We will be making puppet with paper mache technique instructed by Fine artist, Kurt. $10.00 / person, Materials are included. On your first workshop, you get to make models with paper mache. Following Saturday, 27th, we will meet again to paint and decorate the puppets to complete. limited seats, please register via email "cruise@haconyc.com" include your name / numbers of peops / phone number.
YOUR INSTRUCTOR : Kurt Zager
Native New Yorker, Fine arts painter working in oil on canvas with a focus on portraiture. Also have various experiences with many decorative art projects including mural, painted stain glass, hand painted wall papers, paper mache, photography.
Dec 9 - Jan 7, 2018
AQUVII
TOKYO POP-UP
HACO presents a POP-UP store with "Aquvii," a concept store based in Tokyo that specializes in one-of-a-kind gifts and clothing.
On this Holiday season, Aquvvi brings their selection of HOT STUFF from Tokyo and hopes that you will find THE GIFT for yourself and for those near and dear ...
WATCH OUT!
Aquvii Tokyo is a concept store and a fashion brand in Shibuya, Tokyo. Their shop is filled with various items, rather cynical & odd, which they've proudly collected from not only Japan, but from all over the world - with a touch of "peculiar taste."
This is Aquvii's very first time to set up a POP UP STORE in New York.
At HACO, we would like to introduce you to their original items (denim clothes, jewelry) along with a dope selection of the latest "cool" items, with some other selected artists' items & brands they've selected from Tokyo.
Oct 29 - Nov 30, 2017
NEON O'CLOCK WORKS
LIGHT IS CALLING
Installation of box collages and experimental short film screenings. All these box collages are driven by innate spirituality and inner necessity.
Time to be unveiled after a 10 year sleep in the back of my closet.
Light is Calling is NEON O'CLOCK WORKS' first installation exhibition in New York showing their earlier box collages produced in 2006 in Japan, as well as screenings of some experimental short films produced in Tokyo and in London between 2006-2011. These box collages were originally made to symbolize the energy of human desires in the form of box-shaped coffins, - more precisely, female desire for beauty inspired by the history of corsets. Dying for a perfect body of beauty, women suffered from the pain by the act of distorting their body. The complexity of beauty is that it contains not only positive energy, buy it also contains decadence and patience. While the space itself creates a somewhat sacred and solemn atmosphere in the warm lights, the darkness is visible in the light of this installation.
The pure energy of their creativity filled in each box that has slept for nearly 10 years in the artist's closet, is now time to awake, and to be unveiled. 
NEON O'CLOCK WORKS
is a creative unit of Sayaka Maruyama and Tomihiro Kono
Driven by innate spirituality, inner necessity, and often by impulsive reaction the world they live in, NEON O'CLOCK WORKS explores the mediums of photography, short films, drawings, installations and books.
For NEON O'CLOCK WORKS, working as a unit means to them as what Carl Jung said :
"The meeting of two personalities is like the contact of two chemical substances: If there is any reaction, both are transformed."
They also collaborate with other unique artists and performers from all over the world.
Sayaka Maruyama individually works as a photographer / filmmaker and Tomihiro Kono is well-known for his handmade wigs and distinctive head props he creates for artists / musicians / performing artists.